Ring Video Doorbells
We recently examined some of the regulations governing video surveillance of Airbnb properties and how video doorbells can be a beneficial security measure for both hosts and their guests. Ring doorbells are some of the best and most popular models available on the market today. We'll compare some of the basic features of each model as well as some of the add-ons that are available in an effort to assist you in determining which Ring model may be right for your Airbnb.
Models
Ring currently offers 5 models of video doorbells. Let's first discuss some of the common features that all Ring Video Doorbells share, as well as discuss some of the features that differ between more economical and more expensive models.
All Ring doorbells share the following features:
They send notifications to your phone, tablet, or PC when the doorbell is pressed or if the motion sensors are triggered.
When you answer the notification you are able to speak to and see the visitor from anywhere; providing that you have an Internet or cellular connection.
The main differences between the different models are how they are powered as well as the additional features that they are programmed to perform. The following table summarizes these features.
Priced at just under $100 - most economical model sold by Ring
Contains an internal rechargeable battery - entire unit must be removed every 6-12 months to be recharged
720p HD video
Adjustable motion detection - allows you to fine tune the sensitivity of the motion detectors

Priced at just under $200
1080p HD
Alexa compatibility
Slideout rechargeable battery - allows for quick charging with a microUSB port
More flexible placement with its 90 degree vertical lens

Priced at just under $200 dollars
Can be mounted in place of a compatible peephole
Knock detection
Customizable privacy settings

Priced at just under $250
Can be hard wired using existing doorbell wiring for non-stop power
Slimmer design
Create and adjust your own motion zones.

Priced at just under $500 dollars - most expensive model sold by Ring
Uses Power Over Ethernet - connects to the internet using ethernet cables to receive power, rather than using conventional doorbell wiring
Recommended for new construction or remodeled homes
Features a sleek, flush-mount design

Add-Ons

One slightly undesirable aspect of Ring Video Doorbells is that you must pay for a monthly subscription to a protection plan in order to have access to videos and photos captured by your Ring device. Despite this, the two plans that are offered are relatively inexpensive, and considering the additional layers of protection that they provide many find them to be well worth the additional cost. Each device comes with a one-month free trial to determine if these features are right for you.
Ring Basic Protect Plan

Ring Protect Plus Plan

Starting at $3 per month per device
Saves all videos recorded by your doorbell to your account for 60 days and photos taken by your doorbell for 7 days
Photos and videos can be shared with anyone including: attorneys and law enforcement officers

Starting at $10 per month per home
Offers all of the same benefits as the Basic Plan
24/7 professional monitoring on unlimited Ring Doorbells and other Ring devices in your home
Ideal choice for Ring smart homes
Additional Help
If you're still having difficulty deciding which Ring Doorbell option may be the best for your Airbnb, the following flowchart may be helpful.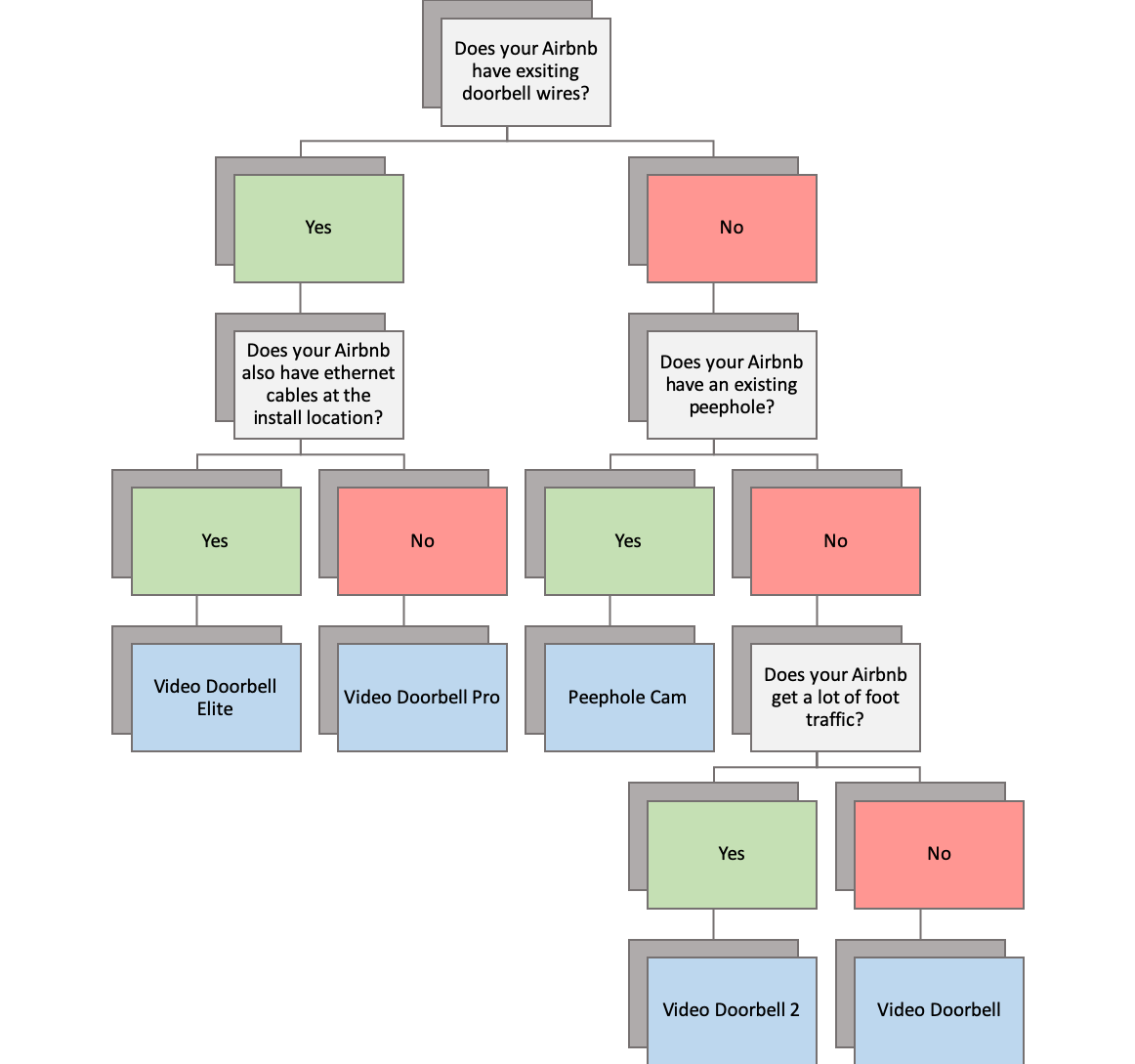 Happy Airbnb-ing!